Step ahead – redefine quality
You want pole position in the digital printing field? Go for it! Redefine quality. With a swissQprint Generation 4 flatbed printer: the latest print head technology and technical sophistication combined.
Extra's from others, standard with swissQprint.
Exact register
swissQprint registration pins. They are set in no time and help to make full and efficient use of the print bed. Pegged onto a fine grid, they provide precise mechanical anchors for any format.
Just repeat
Printing a series of identical or different subjects with no additional RIP process? Nothing could be simpler: The output software supports you in this.
Flip – double-sided printing
You can produce pinpoint registration with double-sided prints in no time, even with inaccurately cut media. With the swissQprint registration pins and the flip function, you can achieve perfect front-to-back registration.
Resume printing after a crash
Despite all precautions, there has been a crash, and that on the final few metres? It's not the end of the world. Via the output software, the operator resumes printing at the exact point where it stopped – and saves the day.
Visual and tactile effects
Effect varnish lends printed items that certain extra. The scope is vast. Printed selectively or across the whole expanse, as a light or heavy layer, with a matte to high-gloss finish – everything is possible. Besides, ink layering is able to produce Braille text and relief prints.
double sided made easy
Transparency can be highly effective: multilayer printing comprised of process colours, foundation layer, blocking layer, foundation layer, and process colours again. And it is so easy to achieve. The layers are printed in one pass, by the way. So they overlap exactly – no chance of bleed-through.
Print 3d effects
Displays, packaging, posters, POS items and interior decoration elements: enhance them with 3D effects and you have guaranteed eye-catchers. droptix adds the third dimension to your creations and allows immense freedom of format and design.
In tandem operation, machine and operator join forces for continuous, non-stop action: maximum productivity by the system, fitness training for personnel.
Clever media retention
A powerful vacuum holds substrates flat and firmly in place. The vacuum system is split into two sections and is steplessly adjustable along the width for a minimum of masking.
Tip Switch Vacuum
Setting the print bed vacuum is child's play. Using the Tip Switch vacuum, each of the 256 vacuum segments is switched on and off in no time at all with just the touch of a finger, no additional masking required.
Blow function
The system can also blow, so heavy media float across the table. This makes for effortless positioning.
swissQprint users generate high value while keeping their ecological footprint small. That's because we see equal importance in maximum customer benefit and environmental protection. swissQprint Nyala can print the area of a tennis court using the same amount of energy as it would take to boil 2 kettles!
meet the swissQprint family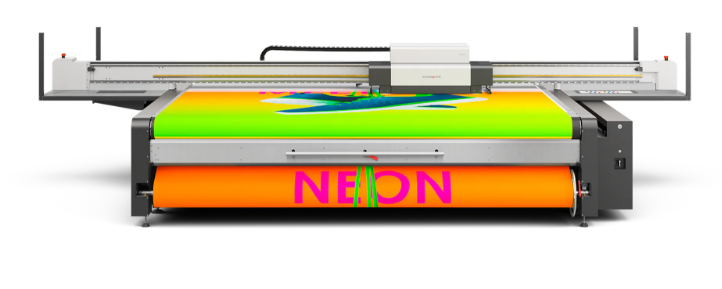 Neon meets UV: even more variety
New neon inks open up a whole world of dazzling indoor applications and they are even fluorescent in black light.
Speak to one of our experts